Exceptional Month
A month with celestial events and synchronicities, and more Art!

Date: 7/28/2020 7:55:31 PM ( 32 mon ) ... viewed 980 times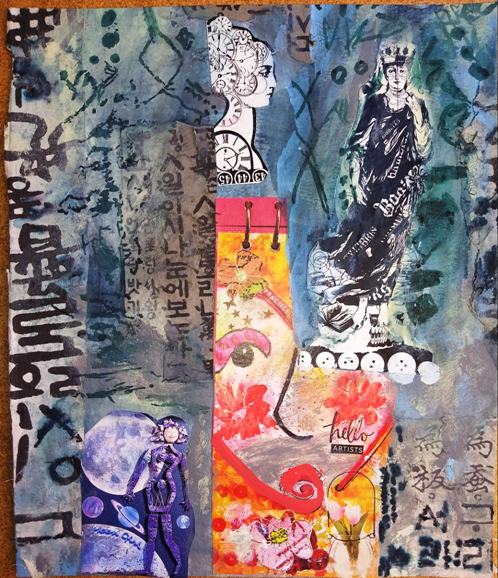 Collage by LFIRE(c)2020




Collage by LFIRE(c)2020


This has been an interesting month!

An EXCEPTIONAL event occurred!

A very rare comet came, and here in Northern California
it was south of the Big Dipper in the western night sky.
It was amazing!




Photo: NASA/Johns Hopkins APL/Naval Research Lab/Parker Solar Probe/Guillermo Stenborg
https://www.sfgate.com/cnet/article/NASA-s-Parker-Solar-Probe-snaps-stunning-view-of-15404555.php#photo-19669867


They called it comet NEOWISE (an interesting name don't you think?)
NOTICE that this comet only comes every 6,700 years!
Harbinger of ????

As I was watching the comet, suddenly I remembered a story
I was told when I was a child, about the Hopi story of
the Blue Kachina. I was determined to look up the story:
https://youtu.be/fjq7BRFRO04

WOW!

If this comet is not the one in the story,
the times are totally right on the money.

Then I had a synchronistic occurrence,
and I thought this an indication of "magic" in my life
and a foretelling of changing into a different reality.

At the moment I seem to be moving between different realities.
Bashar talks about this as well.
Listening to Bashar really got me pondering during
a couple of the latest YouTube's he has posted.
I am still contemplating it all.
(Watch Bashar on YouTube-- Parallel Realities:
https://www.youtube.com/watch?v=DpJ50i-qa1k )

This lesson talks about time, that it is all in the NOW,
which we have been told before,
but this talks about how our
PRESENT ACTUALLY CREATES OUR PAST...

This really got me thinking!!!


Also, this is a reminder that we have had a recent series
of eclipses and a double new moon.
I am experiencing more visions
and creating a lot of new art.

Lions gate...August 8 (8-8-2020):
The Lions Gateway creates an incredible opening
of accelerated ascension energy.
Increased waves of ascension light
and codes of awakened consciousness
are streaming onto the planet now
through the Great Central Sun,
the star Sirius, and directly from Spirit.

This increased light, and accelerated ascension energy
is causing huge life-altering changes
to unfold in one way or another for just about everyone now.

When you consciously claim it, you can use
this time period to take a profound leap
into deeper alignment and harmony
with the Divine Blueprint for your soul embodiment.

You can direct the energy
to support Divine manifestations of love,
abundance and spiritual growth in your life,
to clear distortion from your field, and
to profoundly realign with your Core Divine Light and Truth.



ALL 2020 BLOGS:

Story of the Universe: https://www.curezone.org/blogs/fm.asp?i=2433848

Near Death Experiences,Poetry,Art https://www.curezone.org/blogs/fm.asp?i=2433232

Crossing the Bridge: https://www.curezone.org/blogs/fm.asp?i=2432605

Strange Times https://www.curezone.org/blogs/fm.asp?i=2431998

Burst of Creativity: https://www.curezone.org/blogs/fm.asp?i=2431256

Art and Poetry for the New Year: https://www.curezone.org/blogs/fm.asp?i=2430548

End of the Year/New Year Messages
https://www.curezone.org/blogs/fm.asp?i=2429770




Add This Entry To Your CureZone Favorites!
Print this page
Email this page
Alert Webmaster